Ordering more than 10 items? Please contact us for quantity discounts and additional shipping options.
---
Working Without a Net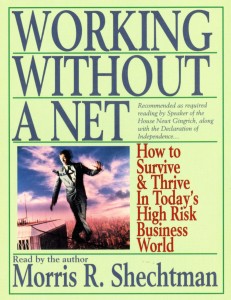 Morrie Shechtman's ground-breaking inquiry into and indictment of entitlements. Newt Gingrich, as House Speaker, stated that this book is required reading. Inside, you'll learn about the debilitating effects that the "safety nets" in our lives cause, and new ways of thinking that will free you to become self-reliant, independent and able to adapt to changes with a positive attitude that will land you on your feet.
Also available with a personalized autograph or as a downloadable MP3 audio book (2 hours), read by Morrie Shechtman.
---
Fifth Wave Leadership: The Internal Frontier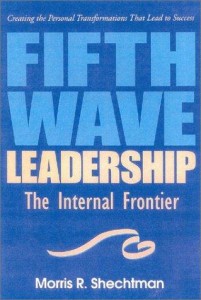 In an era where information travels and technology spreads almost spontaneously, the next frontier is about you. Want to succeed in business? Then stop blaming external forces for your failures and look inside yourself-you'll find your work-related problems are firmly rooted in your past.
In this ground-breaking book, Morrie Shechtman explains how to:
Recognize your familiar, an amazingly strong and persistent collection of attitudes rooted in your childhood that cause you to act in certain predictable ways.
Learn your on-the-job role. Are you a Fixer, a Bully, an Avoider, or a Schmoozer? Uncovering the answer is the first step toward isolating your familiar.
Drill down and examine the long-buried demons that keep you from optimal work performance and a happy life. This process will allow you to diminish the power of your old familiar and move toward a healthier new familiar.
Create accountability groups that foster strong workplace relationships and increase the productivity of every member.
Using organizational case histories and stories of successful individuals who reinvented their familiars and embraced change and growth, Shechtman will prepare you for an increasingly complex future by helping you find the solutions within yourself.
Also available with a personalized autograph or as a downloadable MP3 audio book (5 hours, 41 minutes), read by Morrie Shechtman.
---
My Beloved Child: My Journey Since the Death of My Daughter
This book is a story of real life; a story of a mother and her dearly loved child. It is a story of loss, but more importantly, a passionate and honest description of the process of internalizing and embracing the unimaginable nature of that loss. Arleah's journey will enlighten, comfort, and reveal that which all suffering parents encounter, but may not be able to put a name to.
Whatever your faith, your beliefs, or your values, Arleah speaks to you directly, lovingly, and with honesty This book is life affirming and is in itself an extraordinary statement of courage and love.
Also available with a personalized autograph or on Kindle here.
---
Love in the Present Tense: How to Have a High Intimacy, Low Maintenance Marriage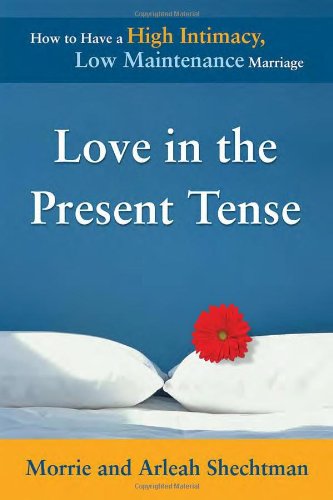 Drawing on their expertise on personal growth in the workplace and from their experience with couples in their popular workshops, Morrie and Arleah Shechtman present a new approach that challenges common notions about what makes a good marriage work. They recognize that myths about marriage often lead people to aim for unrealistic ideals.
Examining eight myths about relationships—including "Love will carry you through the hard times," "You need to work on your relationship if you want it to be good," and "Spending lots of time together is very important"—the book also presents contrasting realities to help strengthen the bond. For those working to build a relationship or struggling to hold one together, this book provides powerful new ways to overcome old behaviors and create a new connection that springs from a shared understanding of one another's needs.
Also available with a personalized autograph or on Kindle here.
---
Recruiting Package: Picking Winners & Keepers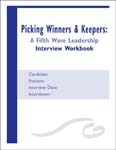 The "traditional" job interview in which the interviewer focuses on what the candidate has done is no longer valid. In today's economy, the key issue is why people do what they do. This truth calls for a whole new set of interviewing skills, one that involves asking probing questions and understanding their belief systems on a deeper level than ever before. This package includes a question and answer CD with Morrie Shechtman plus 20 interview workbooks expertly crafted for you to use in your business.
---
Creating a Conscious Culture

Morrie Shechtman and Bob Kerrigan address an international business conference. The presentation discusses leadership and growth in the following four areas:
Creating a high performance culture
Values-based leadership
Recruiting in a Fifth Wave culture
Retaining your best and brightest
Available on DVD only.
---
Turning Risk into Profit: Building the Foundation for a Competitive Advantage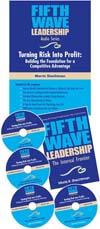 This audio presentation includes four question and answer sessions with Morrie Shechtman, chairman of Fifth Wave Leadership. It will help you understand the connection between leadership, professional success and personal growth and development. Listen to the entire series in the car, on your lunch hour, or even while you're working.
It will help prepare yourself, and ultimately your entire team, for an increasingly complex future at your convenience and at your own pace. This package includes four audio CDs with workbooks and a Fifth Wave Leadership book.
CD Titles:
Understanding Your Familiars and How They Are Holding You Back
Caring Feedback: Telling the Hard Truth
Values: Why You Need to Know Yours
Values: What Are They and How Do I Find Mine?
---
The Kitchen Sink Special!

This combination set gives you one of everything, which includes:
Working Without a Net (book)
Creating a Conscious Culture (DVD)
Turning Risk into Profit CD Series
Recruiting Package CD plus Workbooks